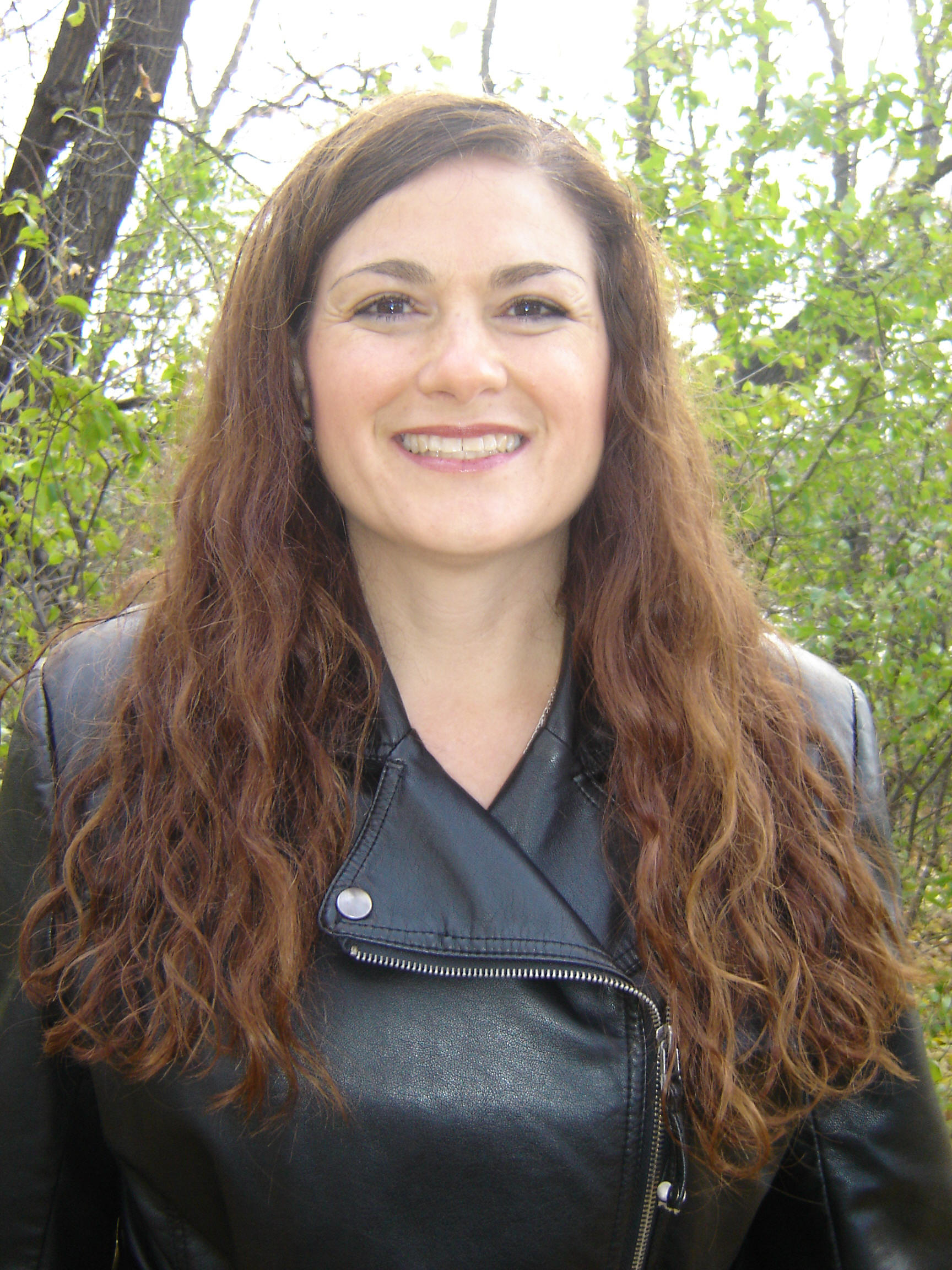 Looking for someone to help you through a problem?
Cathy Nickel, B.A.(Adv) Psy, C. Hyp
Counsellor/Consultant
Cell: (306) 230-0547
Saskatoon, Saskatchewan
---
A very helpful brochure for your information: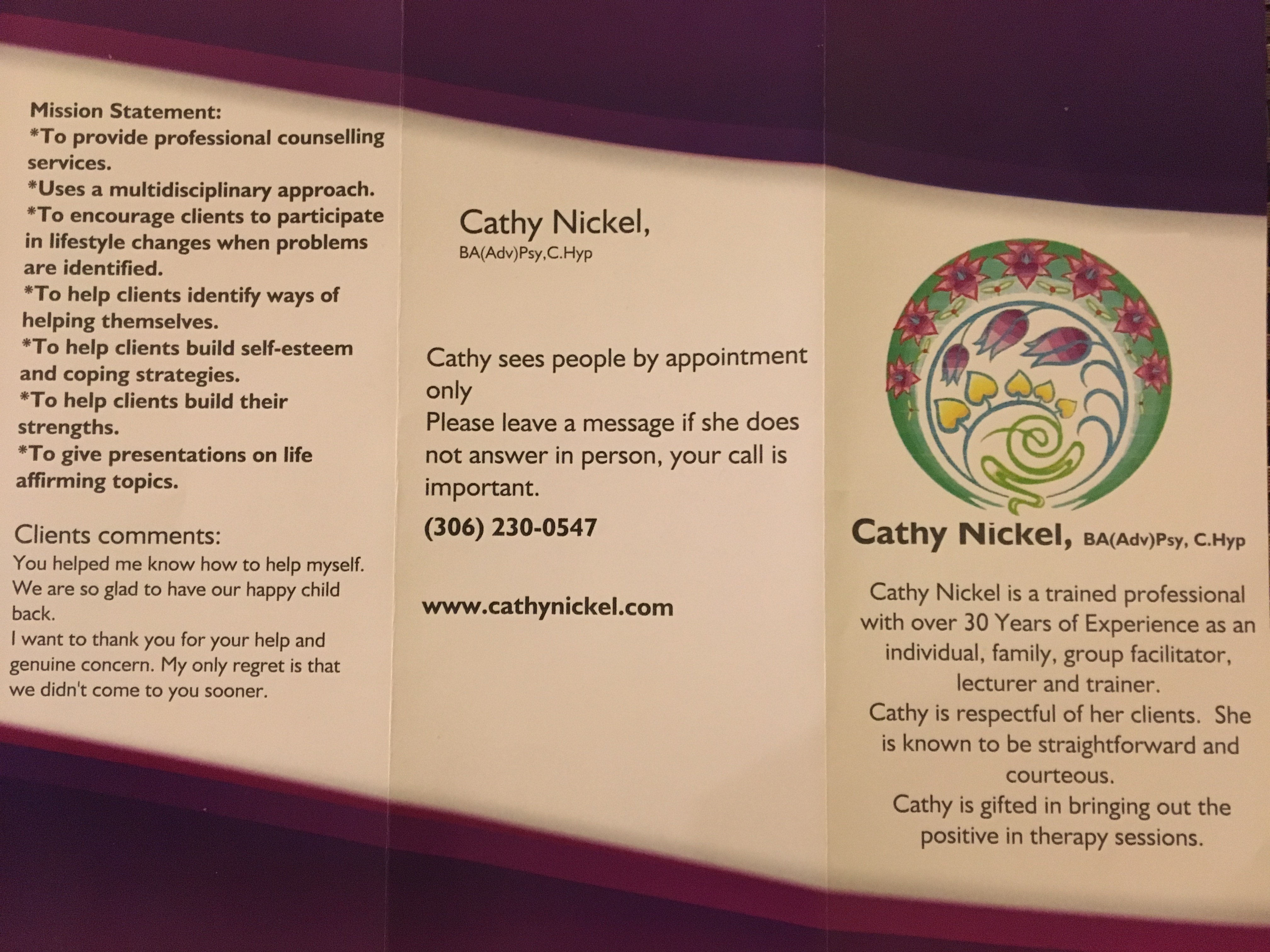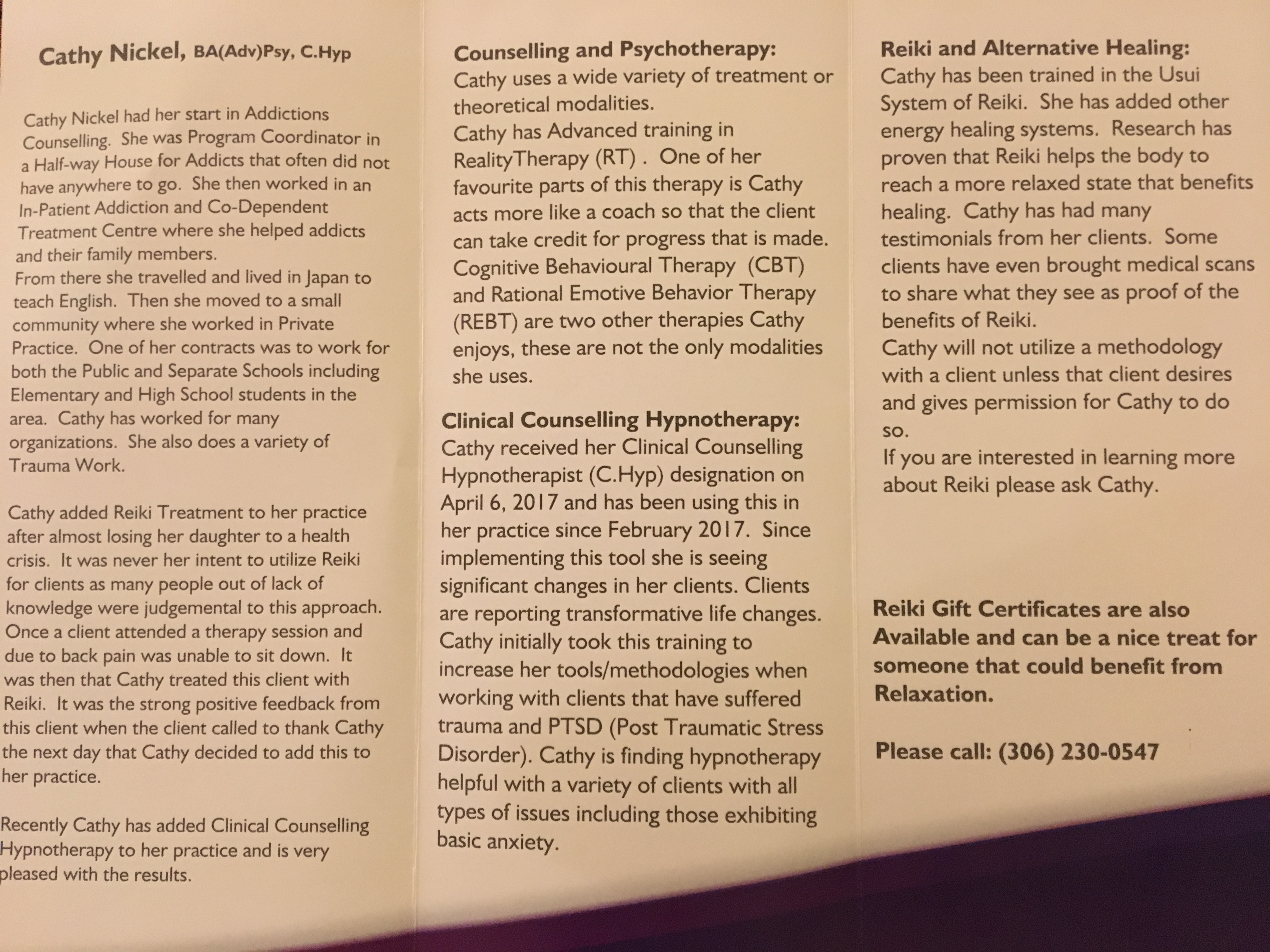 Are you interested in what Reiki has to offer you?
Check out this helpful Reiki Brochure (pdf file)
---
Cathy Nickel:
... is a trained professional with over 30 years experience as an individual,
family, group counsellor, group facilitator, lecturer and trainer.
... is respectful of her clients.
... is known to be straightforward and courteous.
... is gifted in bringing out the positive in counselling sessions.
Counselling Areas Include:
Addiction

Co-Dependency

Adult Child Focus

Body Image

Self-Esteem

Communication

Pain Management

Stress Management

Coping with Grief

Employee Assistance
Warning Signs to Consider Counselling:
Lack of Personal Care

Negative Attitude

Indecision

Compulsive Behaviour

Worry

Fear

Anxiety

Inability to Concentrate

Fatigue

Confusion

Health Problems

Depression

Unable to Set Limits
Mission Statement:
To provide professional counselling services.

To promote healthy living.

To encourage clients to participate in lifestyle changes when problems are identified.

To encourage use of existing resources in the community.

To help clients identify ways of helping themselves.

To help clients build self-esteem and to help them identify their strengths.

To give presentations on life affirming topics.

Education people about positive lifestyle options.
---
Client Comments on Workshops:
"I found all the material very interesting and it helped me to understand."
"A very easy going presentation - not overly structured - lots of opportunity for discussion - visual role plays were very helpful."
Client Comments on Counselling:
"You helped me to know how to help myself."
"We are so glad to have our happy child back."
"I want to thank you for your help and genuine concern. My only regret is that we didn't come to you sooner."
---
All sessions are by appointment only.
Your phone call is very important. Please leave a message.